Below you will find our class schedule for the 2023-2024 dance year!
We group our classes by grade levels. Please look under each class title to see the grade level listed.
**If for some reason the class is not fitting into your schedule, please contact us to see if we can help accommodate your availability at [email protected].
Ballet 7 (2 1/2 – 3 years old) has two options for class day/time. Please specify in the note section on our registration form which day would be your first choice.
**Each class must have a min. of 5 dancers to have a class. If a class has less than 5 dancers signed up, classes may be combined**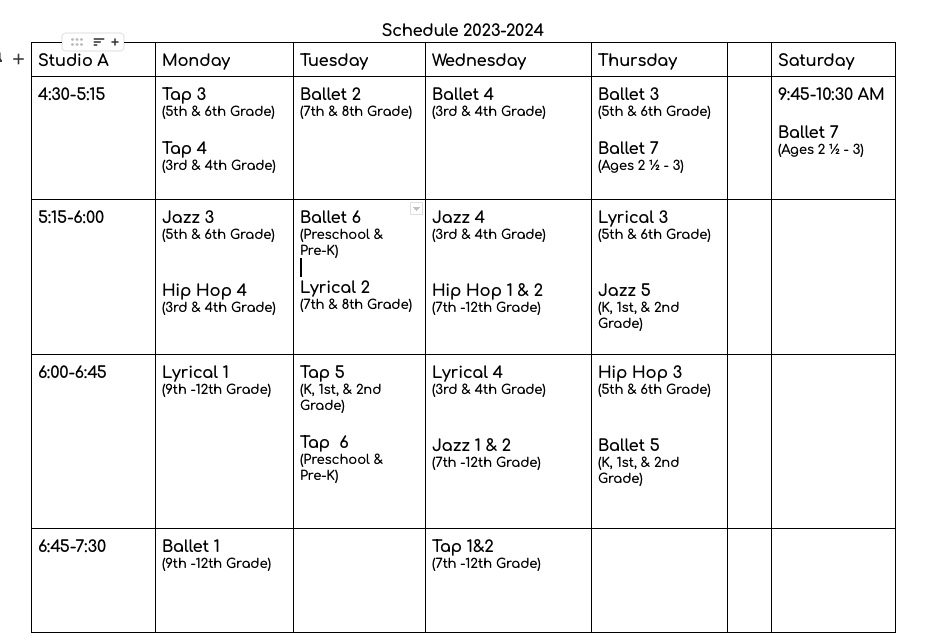 Would you like to register for one of our classes?
 – Click here to Register
Pre-Ballet (ages 3-6)
Pre-ballet is designed to introduce students to the world of dance and enhance their skills in the art of performance.  Basic ballet positions and movements will be the main focus for this class.  Each movement is taught based on their natural body rhythm and steps.  Some terms and steps will be introduced in class so as to refer back to them as they advance into higher levels of ballet as well as other forms of dance.  This class will improve your child's gross motor skills, musicality, creative thinking, and the ability to work in group situations.
Classical Ballet (ages 7+)
Classical ballet is performed with graceful and flowing movements.   The five basic positions of the feet and arms will serve as a base for movement in every class barre and floor routines.  Throughout this course, students will develop strength which will help them greatly with turns, flexibility, and many movements associated with dance.  Students will begin working with pointe shoes at the teacher's recommendation.
Tap (ages 4+)
Tap is a form of dance that incorporates rhythm and syncopation.  Students will be able to tap out audible beats by rhythmically striking the floor with their toe and heel.  Tap dancing allows each student to strengthen and develop coordination through a great American art form.
Jazz (ages 5+)
Jazz has many different influences.  Ballet technique will aide in the sharp and powerful movements that are executed in this style of dance.  It relies heavily on originality and incorporates many different styles.  Music may range from various time periods.  We strongly recommend that jazz students take ballet to strengthen their bodies and to aide with proper body alignment.
Hip-Hop (ages 7+)
Hip-hop dancing is a very broad genre.  The teacher has the free will and room for personal interpretation and will often mix various styles of dance freely into routines.  Hip hop students below the age of 8 will be required to take a jazz class in addition to hip hop class due to the level of difficulty in body placements and style development.

Lyrical (ages 7+)
Lyrical is a fusion of ballet and jazz techniques.  It challenges both the teacher and students to use motion to interpret music and express many different emotions.  Each movement is used to show the meaning of the music.  Every lesson will emphasize on choreography that is both gripping and expressive.  Because it is a more advance type of dance, a solid ballet-based technique is required unless recommended by the teacher.