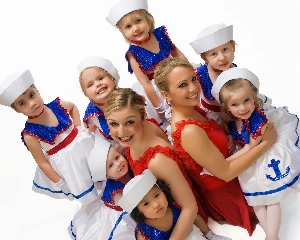 Occhipinti Dance Company is owned and operated by sister's Michelle Occhipinti and Ashley Kaminski. The studio proudly opened it's doors in the spring of 2008 in Elmhurst, Pennsylvania. Classes are offered to children ages 3 to adult. Classes offered include pre-ballet, classical ballet, tap, jazz, lyrical, and hip-hop.
Occhipinti Dance Company is devoted to each and every child's dance education and prides itself in making every class a positive learning experience. The choreographers of the company teach a graded syllabus that builds sequentially to build strength and provide the proper foundation for a quality dance education. Each class is taught by teachers who are dedicated to the art of dance and most importantly to the education of our students. All classes are taught by a choreographer and at least one assistant teacher. Demonstrators are also part of some classes for our younger students to model proper placement and technique.
Dance classes not only provide a chance to learn a beautiful art, but also the opportunity to build positive life skills for children. Building friendships, learning cooperation, teamwork, and building personal self esteem are critical components of any proper education and we take the extra measures needed to provide this for your child.